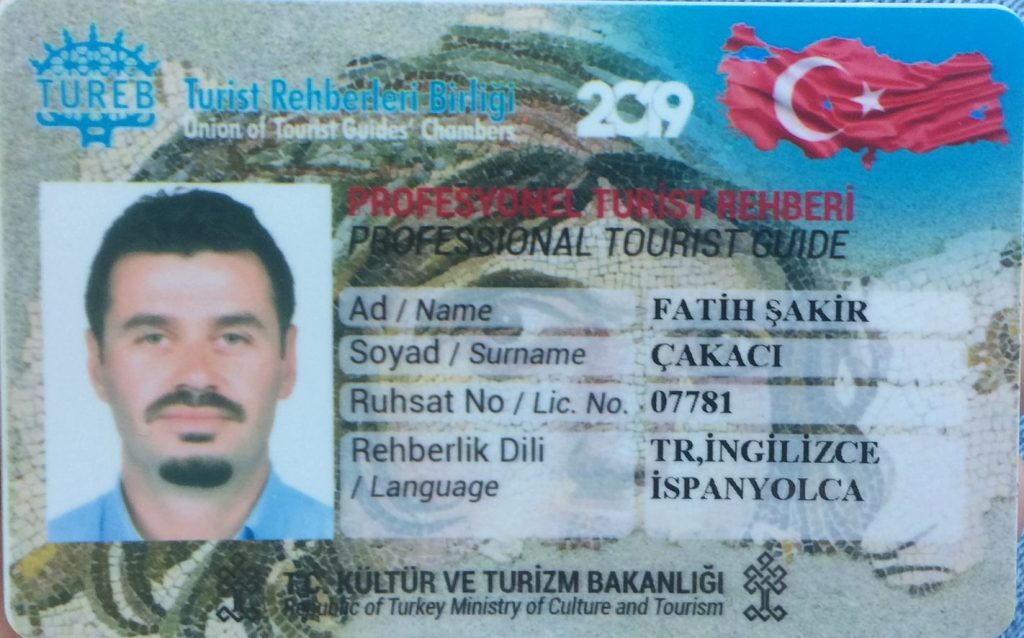 OFFICIALLY LICENSED TOUR GUIDE IN CAPPADOCIA, TURKEY
FATIH CAKACI
Hi Cappadocia Lovers,
Thank you very much for your visit my page about your Cappadocia and Turkey trip. You can contact to me if you have any plan around Turkey and Cappadocia. First of all let me introduce myself to you. My name is Fatih Cakaci.. I am a native Turkish person speaking English and Spanish fluently.
I live in Cappadocia for a long time and after gratuated from Cappadocia University, Tour Guide department, have been guiding since 2006. Although I do guiding all around Turkey with my guiding licence legally, I prefer living and specialise in Cappadocia.
My enthusiasms are especially nature, history, archeology, food and arts. If you are also interested in these subjects, I will be very happy to share my knowledge with you during your visit to our land. You will have chance to see all of them together in Cappadocia.
Cappadocia is quite a big region so that we can see a lot places in a short time. But the main reason people come to Cappadocia is nature. On the other hand, many people are surprised because of its uniqueness when they visit here. Almost every visitors say that other people also should come and see it once in a life time. Because not only rock formations called fairy chimneys but also culture and history are very old here actually. .
Millions of years old rock formations which is called fairy chimneys, caves dwellings, Greek Orthodox rock-cut churches with frescoes and secret pagan undergroundcities in Cappadocia are waiting for you.
Lots of local markets and bazaars, Turkish art galleries will attract your attention and You will have time to see them how to make. Even you can try !
HERE YOU CAN SEE SOME ADVICES ABOUT YOUR TRIP TO CAPPADOCIA
We recommend you minumum 2 o 3 days for your trip to Cappadocia. If you have more days, of course you can see more things but at least you should stay one day in a cave hotel, try hot air ballooning and regional tours provided by us as well. You can arrive Cappadocia by bus or plane. There are 2 airports in the region which are called Nevsehir and Kayseri airports. It takes around one hour to come your hotel from these airports. The best places for staying are in Göreme, Urgup, Uchisar and Avanos towns in Nevsehir city in Cappadocia region. It is located exactly in the middle of Turkey and also known as Central Anatolia region.
I want to give you some ideas about the places you can see and visit in 2 days. If you wish, you can see them in one day or combine 2 or 3 days regional tours which are called RED, GREEN and BLUE Tours. You can see them below with a Cappadocia map:
CAPPADOCIA RED TOUR
Day 1
Start your day from your hotel or airport around 09:30/10 am and see;
Imagination Valley fairy chimneys and rock formacions ( Natural camel-shaped rock can be seen here. Also called Imaginacion Valley )
Pasabag fairy chimneys and rock formacions ( several-capped fairy chineys and cave houses)
Avanos art town and The Red River.
Lunch ( traditional Turkish food, potery kebab is recommeded )
Göreme open air museum ( The most beautiful Greek orthodox churches of Cappadocia with frescoes from 10th Century )
Göreme panoramic view ( A tea or Turkish coffee break with a spectacular view of Göreme town )
Uçhisar Castle ( The biggest fairy chimney in Cappadocia )
Back to hotel ‪around 17:00pm‬
CAPPADOCIA GREEN TOUR
Day 2
Opcional balloon tour in the morning at sunrise. It takes around 1 hour normally but total duracion is around 2-2.30 hours. Balloon company picks you up from hotel and after then bring you back to hotel. You will have time for breakfast and tour for the whole day. After balloon trip, we meet at hotel around 9:30/10:00am
First visit will be Pigeon Valley and then a 4000 years old Undergroundcity.
Ihlara valley and trekking around 4 km before lunch.
Lunch is in a local restaurant by Melendiz River.
Visit to Greek Orthodox churches and monasrty
Panoramic view of Pigeon valley before back to hotel.
During tours, you will also have chance to see more things depending on your wishes. Local arts such as seramic making or weaving kilims / carpets , wine, Turkish delight or dried fruits. we can add them if you we have time and your requests.
CAPPADOCIA BLUE TOUR
Day 3
We meet you at hotel around 09:30/10am and after your delicious Turkish breakfast.
Start our day exploring Red and Rose valley or Soganli Valley. Let's exploring and trekking.
Old Cavusin village settlement which dates back to roughly 2000 years old cave dwellings.
After lunch, visit a 4000 years old undergroundcity.
Visit three beauties fairy chimneys and back to hotel around 17:00 pm and back to hotel or directly to airport.
You can also try Turkish Bath, ATV or Horse back riding, Turkish night show with dinner in a cave restaurant or Balloon watch tour during your trip to Cappadocia. If you are interested in doing any of them, you can contact to me for the best price and service. We can book them for you with reasonable prices especially for groups.
***********
Guys! You are our guests in our country and I am here to help you for arranging everything upon your wishes comfortably with reasonable prices. I am native and know all Turkey very well. I can easily coordinate events, airport transfers, Balloon flights and Turkish night shows truly for you. Just enjoy your moments and experience more in our country. If needed, you can contact to me any time.
We are looking forward to seeing you soon.
Cappadocia Tour Guide
Fatih Cakaci
📧 fcakaci@hotmail.com
☎️ 0090 532 501 93 46 ( WhatsApp available )